Information
Maebel has a minion!
Pancake
the
Paaka
Maebel
The
Cream Jollin
Owner:
Iridescent
Age: 7 years, 5 months, 4 weeks
Born: October 20th, 2011
Adopted: 7 years, 5 months, 4 weeks ago
Adopted: October 20th, 2011
Statistics
Level: 4
Strength: 10
Defense: 10
Speed: 10
Health: 10
HP: 10/10
Intelligence: 0
Books Read: 0
Food Eaten: 3
Job: Unemployed
Mae is a sweet little girl who enjoys playing with her brother, Mullberry. She is also silly and loves being goofy! They are fun loving little kids who enjoy running around the estate and leaving stuffies in every spacious room. Mae's favorite color is Peach, favorite food is probably waffles, and she loves being girly.
back one
Overlay colors : tan/whitish. (like my bunny Panda but no grey) Maybe do Chibi Feli
Profile, art, story by: me

Art by: Me,
Iridescent

Art by: Me,
Iridescent

First look/ older art by: User not found: Anastasia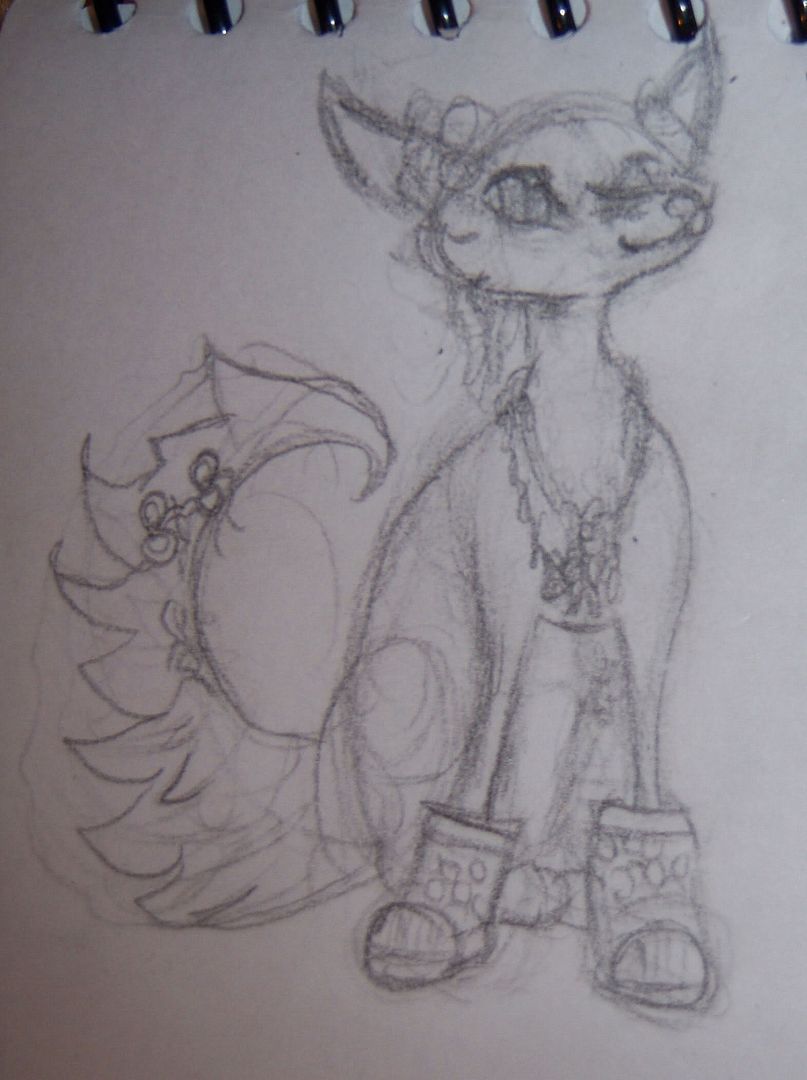 (Silly art by me.)
Pet Treasure
Kissing Bear Plushies
Fresh Flower Cake
Ballerina Music Box
Field of Daisies Sticker
Sibling Sticker
Cream Lifelike Jollin Doll
Jacob the Anteater Doll
Teapot Purse
Tea Party Blob Kitty Plushie
Sweet Vanilla Vesnali Cupcake
Liddle Lamzy Divey
Garden Party Bear Plushie
Floppy Duck Plushie
Blooming Cake
Baihu
Puppy Love
Cream Chelon Beanbag
Survival Small Pale Roses
Ivory Peony Sticker
Mothers Day Dragarth Plushies
Frilly Spiderbug Plushie
Hessian and Lace Butterfly Plushie
White Koala Love Gift
Silly Calico Kitty Plushie
Yellow Nott Flower
Ichbit Plushie
Pink Tulip Plushie
Cream Vesnali Cuddle Bunny
Lambi Doll
Snuggen Plushie
Basic Telephone
Guide to Ribbons
Yellow Yarn Octopus Plushie
Lovely Spring Teacup
Painted Rose Cake
Rose Macarons
Cupcake Decorating
Purple Bunny Bouquet Sticker
Luvapup
Patchwork Trunker Plushie
Sweet Mini Custard
Common Day Lifelike Zentu Doll
Pearl Patched Butterfly Plushie
Rainbow Egg Cake Slice
Decadent Strawberry Poundcake
Strawberry Milk
Beaubell
Sweetheart Devonti Plushie
Sweetheart Legeica Beanbag
Voucher Love Sticker
RoQ Candy Palette Dye Kit
Paper Snowdancer Doll Chain
Blush Plum Blossom Sprig
Strawberry Milkshake
Sweetheart Donadak Plushie
Cuddly Rabbit Toy Sticker
Tea Party Time Teadae Plushie
Springtime Royal Honey
Homemade Apricot Jam
Dunderfluf Plushie
Hessian and Lace Bunny Plushie
Octopus Cuddle Buddy
Lovely Vintage Ruffie Plushie
Wreathed Bun Buddy
Puppy in a Basket Plushie
Fake Designer Handbag
Sticky Sweet Rice Treats
Citrus Custard
Festive Fantine Plushie
Scrapbook from a Lifetime Ago
Flower Notebook
Pastel Button Scarf
Pinkora
Pink Winter Beastie Beanbag
Adriette Chai Plushie
Crowned Chip
Patchy Puppy Plushie
Nostalgic Irion Toy
Candy Corn Cat Plushie
Autumn Stag Plushie
Freezey
Festive Melody Plushie
Garden Party Giraffe Plushie
Luminaire Sweater Cybill Plushie
Dawn Lifelike Montre Doll
Dawn Escalade Plushie
Charity Picnic Basket
Dull Survival Yellow Plumerias Brownies
Dawn Toy Decal Set
Sweet Lemon Vesnali Cupcake
Picnic Vintage Antlephore Plushie
Gingerbread House Sticker
Knitting Basket
Calico Kitty Beanbag
Happy Buns Beanbag
Baby New Year Devonti Plushie
Cream Lifelike Legeica Doll
Hessian and Lace Owl Beanbag
Spring Fox Plushie
Orange Polar Bear Plushie
White Freesia Sprig
Garden Bunny
Groundhog Plushie
Teapup
Kraken Dress Up Steampunk Charlie Plushie
Too Fluffy Point Cat Plushie
White Sunflower Beanbag
Winter Punch
Dancing Chai Blooming Tea
Floppy Bunny Plushie
Cuddleroo Plushie
Pie Taffy
Wrapped Jawbreaker Gumball
The Perfect Tea Party Guide
Gingham Vintage Kanis Plushie
Baaaaaa Plushie
Snowshoe Beanbag
Lovely Pastel Teapot
Lovely Pastel Sugar Bowl
Tea Party Treat Tray
Suria
Sleepy Vintage Ruffie Plushie
Chibi Antlephore Plushie
Teadae Beanbag
Dead Survival Small Pale Roses Cake
Keen Little Red Rreign Plushie
Rosebud
Chaiki Plushie
Oatmeal Plushie
Autumn Vintage Lain Plushie
White Foxglove
Pastel Vesnali Cake Slice
Winter Goat Plushie
Polka Dot Vintage Kanis Plushie
Patchy Tabby Plushie
Gathering Vintage Popoko Plushie
Esther Bunny Beanbag
Orange Polar Bear Plushie
Yellow Parasol Bunny Toy
Orange Nott Flower
Ribboned Antlephore Trinket
Derpy Fox Plushie
Sweetie Imp
Plunder-Filled Pink Heels
Lemon Bunny Sugar Cookie
Pastel Ladybug Beanbag
Tea Party Time Teadae Sticker
Rose Scented Perfume
Sweetheart Pink Panda
Love Dragon
Ceendawg
Carnation Hair Pin
Sweetheart Priggle Plushie
Chibi Peppermint Bumbus Plushie
Fruity Citrus Smoothie
Kitmonkey Plushie
Sunnybee
Beeby Plushie
Cuddly Koala Plushie
Bunny Bear Plushie
Dawn Chai Plushie
Marsh Chai Plushie
Common Chai Plushie
Authentic Hand Sewn Legeica Plushie
Soft Kitty Plushie
XOXO Candy Heart Beanbag
Cream Lifelike Zentu Doll
Floppy Lamb Plushie
Flowering Ice Cream
Starfish Ice Cream Cone
Needle Felted Dragon of Autumn
Patches
Sweetheart Antlephore Plushie
Pink Nott Flower
Floral Patchwork Red Rreign Plushie
Chibi Peppermint Mortiking Plushie
Brown Polar Bear Plushie
Chibi Peppermint Antlephore Plushie
Magical Special Bear
Snowbear Plushie
Snuggly Owl Doll
Plushie Makers Kit
Floppy Lion Plushie
I Love Horses Sticker
Chibi Antlephore Plushie
Flaopy Pillow
Yellow Foxglove
Sun Legeica Plushie
Cinthias Rabbit Plushie
Garden Party Beaver Plushie
Minty Vintage Antlephore Plushie
Festive Vintage Antlephore Plushie
Medale
Deluxe Casablanca Cameo
Pink Handmade Puppy Plushie
Soft Brown Bunny Plushie
Soft Focus Vintage Jollin Plushie
Knitted Ivory Cloche
Dawn Bear Beanie
Red Bean Mochi Ice Cream
Peach Bearded Iris
Fluffip
Cuddleroo
Caramel Sweetheart Puff
Cream Lifelike Anyu Doll
Common Lifelike Noktoa Doll
Cream Lain Plushie
Orange Lachenalia
Orange Delicate Bird Feeder
Daisy Pumpkin Plushie
Maneku
Maiye
Ickle Zebra Plushie
Gray Vintage Lain Plushie
Yellow Angelic Heart Pillow Plushie
Vintage White Flowered Lamp
Brown Super Soft Fox Plushie
Sunset Knit Red Rreignbow Beanbag
Golden Knit Red Rreign Plushie
Common Lifelike Anyu Doll
Pink Foxglove
Dawn Devonti Beanbag
Pink Bunner Plushie
Dawn Kerubi Plushie
Cream Devonti Plushie
Orange Purdeflowr Plushie
Minibehr
Yellow Purdeflowr Plushie
Sunrise Spirit
Chibi Peppermint Archan Plushie
Dawn Bearded Iris
Ivory Satin Corsage Headband
Confekitti
Pink Spring Duck Plushie
Pink Super Soft Fox Plushie
Oversized Stuffed Kitty
Crazy Ice Cream Sticker
Oversized Stuffed Puppy
Pardice Plushie
Box of Specialty Tea
Cream Kerubi Plushie
Elegant Kanis Plushie
Tales of Gossamer Wings
Gingerbread Fox Plushie
Whipped Cream Waffle
Orange Witch Plushie
Orange Sheer Bow Headband
Sibling Diary
Oversized Stuffed Elephant
Vintage Plum Hair Kit
Dancing Dino
Dawn Hikei Plushie
Peacherine Gladiola
Sun Torrey Plushie
Paranoid Horse Plushie
Orange Empire Ribbon
Yellow Ponybuttons Beanbag
Pink Bunnybuttons Beanbag
Chibi Peppermint Kerubi Plushie
Chibi Peppermint Sheeta Plushie
Chibi Peppermint Bhakoru Plushie
Golden Knit Red Rreign Plushie
Cuddleroo Beanbag
Peach and White Gladiola
Pawprint Small Feline Bed
Pet Friends