DarastrixThurirl
Legacy Name: DarastrixThurirl
The
Galactic Harvester
Owner:
Chef
Age: 13 years, 9 months, 1 week
Born: April 26th, 2009
Adopted: 6 years, 3 months, 4 weeks ago
Adopted: October 7th, 2016
Statistics
Level: 1,212
Strength: 2,312
Defense: 1,238
Speed: 1,134
Health: 2,302
HP: 2,302/2,302
Intelligence: 1,419
Books Read: 1363
Food Eaten: 2646
Job: Deputy Director
**NEWS* *SHOPS* *FORUMS* *EXPLORE* *INVENTORY* *GAMES**

Darastrix Thurirl -
Bringer of doom. Breath of fire. Death on high.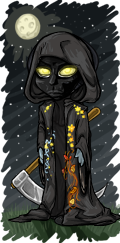 NAME: Dara - strix - Thur - irl
NICKNAME: Death; Reaper
AKA: Thanatos; Ankou; Śmierć; Yamaraj; Yen-lo and many other "names"
BORN: April 26, 2009
GENDER: Male/Female
ORIENTATION: agamogenetic
EMPLOYMENT: Currently works as Intelligence Analyst at the SAI.
HOBBIES: chess, cards, games of 'chance'
FAVORITE COLOR: black
FAVORITE MOVIE: "The Seventh Seal" by Ingmar Bergman (1957)
FAVORITE SONG: "(Don't Fear) The Reaper" by Blue Oyster Cult (1976)
FAVORITE QUOTE: "For death is no more than a turning of us over from time to eternity" - William Penn
BIRTHSTONE: Diamond
ZODIAC BIRTH SIGN: Taurus
CHINESE ZODIAC BIRTH SIGN: The Year of the Ox
CELTIC ZODIAC SIGN: The Hawthorn Tree
EGYPTIAN ZODIAC SIGN: Horus
NATIVE AMERICAN ZODIAC SIGN: The Beaver
PSYCHOPOMP : Moira the Doom Bug
PERSONALITY: Dark. Dangerous. Deathless. Deific. Divine.
LIKES: nothing
DISLIKES: everything



HUMAN AVATAR CHARACTERISTICS:
HEIGHT: 7'3"
WEIGHT: 215 pounds
BUILD : skeletal
AGE: born with his galaxy
COMPLEXION: unknown
EYE COLOR: gold
DISTINGUISHING MARKS: none known

One was born into each galaxy in the beginning. He was that one in this galaxy - a reaper; a gatherer; a harvester. Ever diligent; ever vigilant. He comes for every person or animal, hourglass in hand, waiting for the last grain of sand to fall. When it does, he collects the soul with a well-practiced cut of his razor-sharp blade. Ultimately, this is his "job" and he still loves it - even now!

Death is a constant shadow hanging over everything that we do. He eagerly awaits this inevitably. The tiny leaves on the giant tree that is his home start browning three months before a person or animal dies. He always knows whether the dying is north, south; east, west and where in the galaxy the dying will happen...the precise point! Be it accidental or natural, he will be there for time and distance are relative!

Impossible you say! Well you can always stick around and die early for proof or just believe me for I have seen this as it happens! Each branch of his tree belongs to a different inhabited planet; each twig to a different area of this planet; each leaf is a distinct soul. For every leaf that falls, a new leaf replaces it and a soul is recycled. Thus the death cycle begins all over again.

Is he lonely you may wonder. He doesn't think so! He is surrounded by every soul that he has ever harvested. This is their heaven OR hell. The Great One decides which. He only follows the inevitable; follows orders. There is a constant murmur of voices even though he can't make out the words. They are soothing and comforting and all encompassing. They are his family! He is very satisfied!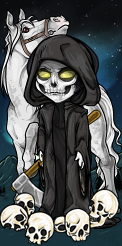 A FAVORITE POEM!:


'Ride of the Grim Reaper'
by Jon Michael Willey

Tightly clenched in one hand is his scythe
The arc, symbolic of the finality of its cut
The reins of his fiery steed wrapped taut
About the bony white digits of his other hand
Fate is being exhaled in tremendous vortexes
From the nostrils of his mount
Darker than a black hole is the steed
At speed that bends and distorts light
The duo traverse and instantly span any distance
Within the universe immense
From the fringes of creation their journey began
That nebulous region north, south, east and west of infinity
Flashes of pulsating light pierce the darkness
Gaseous matter crackles and hisses providing a faint glimpse
A shadowy outline of the rider, the steed and their path
The rider is all bone--fleshless
He is hooded in mystery and cloaked with the unknown
No distinct figure emerges
Two fiery expressionless embers, glare from within the hood
Fixed with singleness of purpose
From where once surely the eyes of a mortal
Must have resided
His foray ordered by the ultimate authority
Its purpose most clearly defined, the time exact and deadly precise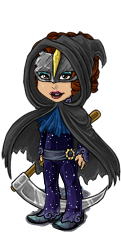 All manner of stealth does he employ
Every device solely at his discretion
For detection is an option not granted unto him
The intended victim known only to the creator
And this special envoy from out of the where and why
Never is his intended victim
Before hand known
None shall elude or evade the rider and his steed
When their intent, is to terminate
No one can, their journey impede
Relentless is the pursuit
There is no defense for his onslaught
Swiftly and precisely the task is executed
Each ride by the duo sealing the fate of the intended
Without debate
No one is ever--late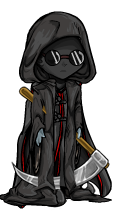 Pet Treasure
Pet Friends