Gearz n Wirez
Legacy Name: Gearz n Wirez
The
Steamwork Kumos
Owner:
Beardies_Rule
Age: 12 years, 11 months, 1 week
Born: April 20th, 2010
Adopted: 6 years, 5 months, 3 weeks ago
Adopted: October 7th, 2016
Statistics
Level: 66
Strength: 136
Defense: 34
Speed: 33
Health: 51
HP: 51/51
Intelligence: 312
Books Read: 304
Food Eaten: 0
Job: Spring Tester
**NEWS* *SHOPS* *FORUMS* *EXPLORE* *INVENTORY* *GAMES**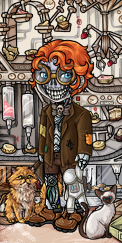 NAME: Gearz - n - Wirez
NICKNAME: Buzz
BORN: April 20, 2010
GENDER: Male
ORIENTATION: asexual
EMPLOYMENT: Currently works at The Weapon Shop
HOBBIES: making models, doing puzzles
FAVORITE COLOR: metallic (bronze, gold, copper, silver, steel)
FAVORITE MOVIE: 'Tron' (1982)
FAVORITE SONG: 'Wires' - Athlete
FAVORITE QUOTE: "Life is like a ten speed bicycle. Most of us have gears we never use". - Charles M. Schulz
BIRTHSTONE: Diamond
ZODIAC BIRTH SIGN: Taurus
CHINESE ZODIAC BIRTH SIGN: The Year of the Tiger
CELTIC ZODIAC SIGN: The Willow Tree
EGYPTIAN ZODIAC SIGN: Horus
NATIVE AMERICAN ZODIAC SIGN: The Beaver
BEST FRIEND : Socket the Iron Terrier
PERSONALITY: intelligent, enigmatic, steadfast, stubborn
LIKES: Isaac Yun, schematics, recycling, oil, grease, gears, wires, equal rights for all
DISLIKES: junkyards, bigotry, intolerance, rust



HUMAN AVATAR CHARACTERISTICS:
HEIGHT: 6'6"
WEIGHT: 444 pounds
BUILD : very muscular
COMPLEXION: depends on the 'skin'
EYE COLOR: blue
DISTINGUISHING MARKS: lots of gears and wires, pointed ears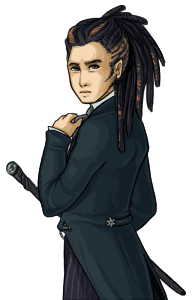 Jules Yun: "Come in! I hope you find the schematics you want. It was my father's greatest wish for everyone to have one of these magnificent creations."

Thus began my journey to find my true spirit; my true self. Although I was born a Common Kumos, Lillie_Vale had always told me that I was destined for magnificence. She had also said that I would need lots of patience because all of the necessary components for my change were very expensive. Lillie_Vale bought one of the very first Steamwork Kumos Schematics and adopted me right after the 2010 Atebus Revolution Masquerade. The Yunium Key was way out of her budget for a long time (20 million+sP) and she almost gave up on obtaining one until Masquerade 2011. And then, there it was in The Steamworks Menagerie - Aisle 12! Now the race was on to earn 5,000 Steamwork Trinkets as quickly as possible to ensure that my destiny would be fulfilled. After obtaining the necessary Trinkets, we took the key and the schematics to Yun Enterprises - Full Steam Ahead where we met with Isaac Yun the last robotic invention Vernon Yun ever made. (By the way, for those of you who don't know, Vernon treated Isaac as a son.)



Isaac Yun: "Oh, have you come for a new steamwork pet? My father would have been so happy to know you are interested! You will need a Yunium Key and a species-specific schematic of your choice. Present me with these items to place your order, and I should have your pet completed in no more than three days."

Thus we handed over the two items and left the shop hardly containing our enthusiasm. Three days later I awoke early and sure enough - I was Steamwork!!! Lillie_Vale and I were very excited and immediately went shopping for a Minion that would suit my new 'color'. I chose a cute, little Iron Terrier which I named Socket. Now I was complete!


Pet Treasure
Pet Friends