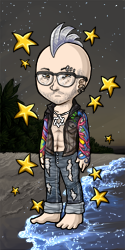 This is Travis Bickle. I adopted him from
Dickie.His name comes from the movie Taxi Driver.
His story by me.
TracyH
Hello, My name is Travis Bickle. First of all I am nothing like the character in Taxi Driver. I began life as a Chibi Fester. My original owner let Mama adopt me. Back then Festers had green mohawks. I assume this is why my former owner Dickie named me what he did. One day Mama decided to color me Galatic. I went with her to the Coda Caves. A fairy where you mine your gems named Celesse told me where to meet Itallo to be blessed Galatic.

Celesse was the most beautiful woman I had ever seen. I was immediately besotted. I am a shy man and never had a girlfriend. I mostly just talk to my siblings, my Hannibal themed account mates, Mama and people at work.

I fell in love with Celesse.However I know nothing can ever come from it. I am just one of many, many pets she has watched mine for Gems and sent on their way to Itallo. I doubt she even remembers me.

Plus she is a fairy and I a Fester,

...But I love her and I cannot think of another because anyone else would be compared to her and that would not be fair to them.

I work out, I try to forget. I read books. I try to forget. I work hard at my job. I am in the top position at the Trading Card shop. I try so hard to keep busy and not think of Celesse.Every night I dream she and I are married. We are blissfully happy. We have a house full of little Fester fairies running about.

When I wake up I am ALONE!!!!

I share my pain with no one. I do not want my siblings and my Hannibal themed account mates to know how foolish I am pining over a beautiful fairy that will never be mine.

Also I would not want them to worry about me. I want all of them to be happy.

Like all of Mama's pets I have a Patches and a Mother's Day Memorial frame in my treasure. It gives me some comfort as does my minion Lil' Travis. Also I have things that remind me of HER, because always somewhere in my mind Celesse is there. I do not think she will ever leave my thoughts.
This I keep under my pillow. Please tell no one.