Information
Dennis Sherlock Holmes has a minion!
Electricity
the
Lightning Sylph
Dennis Sherlock Holmes
Legacy Name: Dennis Sherlock Holmes
The
Storm Fester
Owner:
TracyH
Age: 16 years, 2 months, 1 week
Born: April 30th, 2006
Adopted: 16 years, 2 months, 1 week ago (Legacy)
Adopted: April 30th, 2006 (Legacy)
Statistics
Level: 40
Strength: 80
Defense: 20
Speed: 16
Health: 17
HP: 17/17
Intelligence: 113
Books Read: 105
Food Eaten: 0
Job: Head of Competitions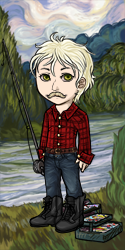 Hi, my name is Dennis. I am named for
TracyH's husband and son. Well except for the Sherlock part. That is from an English detective we all know and love written by Sir Arthur Conan Doyle.
I like many things. I like all sorts of sports, baseball, basketball, soccer,football, beach volleyball . I like to fish. I love to swim and water ski on Veta Lake. I also like to hike and jog. Plus we all love to camp. We live at the Veta resort.
It is so fun to be in or near the water.
Because I am storm. I have to be careful not to make storms come up on the lake. I love all water sports. As long as I keep my temper down, I create few storms. My minion Electricity wants me to cause tidal waves and hurricanes, but I told him, "No, I will not do that!!"
Then he tries to start a storm himself. It is always just a tiny little storm no more than a foot each way.:P
My favorite place to go is Delphi Beach and the Carnival. I am great at all the games at the carnival. I love to surf when I am at the beach. I get a little sun too, but I always use my sunscreen. Electricity tries real hard to make storms in the ocean water off of Delphi beach. Thank goodness he is too little to do any damage.
Travis and I work at the same place. I like working at the Trading Card Center.
Oh and do not miss the Mother's Day Memorial Frame and the Patches in my treasure chest.
Here is a picture of the real 2 Dennises.
Pet Treasure
Stormy Vesnali Egg
Ball Lightning
Roiling Storm Matter
Cloud Taming Comb
Spring Storms
NO Storm Cloud Sticker
Sudden Hailstorm Maze Trading Card
Tempest Plushie
Storm Fester Plushie
Storm Fester Beanbag
Tempest Umbrella
Twerster
Sudden Rainstorms
Stormy Cloud Nine Beanbag
Storm Droop Beanie
Storm Fluffmuffs
Thunderstorm Weather Sticker
Stormy Mask
Sad Rainy Sticker
Stormy Carved Pumpkin
Black Silkie
Storm Mummy Sleeping Bag
Mosquito Coil
Forest Matchbook
Green Camping Chair
Awesomely Orange Squishy Fishing Lure
Can of Worms
Red Tackle Box
Expensive Fishing Pole
Blue Tackle
Potato Skins
Onion Rings
Fried Mushrooms
Vintage Donadak Plushie Fair Prize
Whipped Cream Funnel Cake
Green Cotton Candy
Carnival Rules
Carnival
Delphi Carnival Playset
Twilight Sand Castle
Yellow Towel
Purple Towel
Green Sunscreen
Blue Sunscreen
TUBES Surf Magazine
Wavey Bodyboard
Sunnydaze Bodyboard
Palm Tree Surfboard
Flaming Surfboard
Blue Pineapple Beach Shirt
Purple Flower Beach Shirt
Beachy Boomerang
Delphi Sticker
Veta Sticker
Veta Lake Hot Sauce
Delphi Hot Sauce
Veta Lake Football Jersey
Delphi Fairy Tales
Veta Fairy Tales
Cards Issue 1
Promo Fester Trading Card
Lime Green Mini Phone
Green PC
Mothers Day Memorial Frame
Patches
Pet Friends