Information
Adversity_517 has a minion!
Perseverance
the
Ravenpuffs
Adversity_517
Legacy Name: Adversity_517
The
Nightmare Fester
Owner:
TracyH
Age: 6 years, 11 months, 2 weeks
Born: July 24th, 2015
Adopted: 6 years, 11 months, 2 weeks ago
Adopted: July 24th, 2015
Statistics
Level: 26
Strength: 26
Defense: 12
Speed: 12
Health: 12
HP: 12/12
Intelligence: 107
Books Read: 106
Food Eaten: 0
Job: Stylist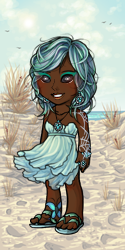 I was able to get Adversity because my participation in Quest-A-Thon 2015.The sad tale I wrote her is pure fiction because I knew what kind of pet I wanted and what name I wanted for her before this event was over.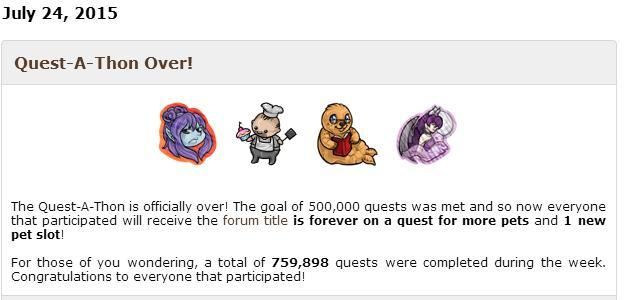 Adversity's story by:
TracyH
Adversity's name fit her. I was sure of that the first day I laid eyes on her in that social worker's office. A head taller than most of the girls her age it was evident that Adversity was an amazon.
I knew there had been a horrible event at a civilized city near an island where some Amazons lived. Amazons only mate for the purpose of bringing forth more girl children. Boys and Fathers are sent away to what they deem a lesser place on the other side of the island.
Apparently, Adversity's parents did what the Amazons consider the most vile things. THEY HAD THE AUDACITY TO FALL IN LOVE AND MARRY. They tried to run away, made it as far as this civilized city, but they were captured and killed, leaving Adversity orphaned.
(Yes, her parent's named her that, because of the life they knew she would live. I thought Optimism would have been better, but unfortunately as I said before Adversity fit her. )
The authorities where Adversity's parents had died refused to let the Amazons take Adversity home with them because their actions had caused the death of her parents plus. They could not keep them or try them because of treaties between the two nations. They could however not allow her to go to the island because Adversity was born in their country.
Because no one wanted to adopt a member of that Amazonian tribe in that so called civilized nation; they kept her in foster homes there. After years in unhappy homes. I got a call that maybe the Holmes' family acct. might be the place for her. Veta was a long way from Adversity's roots, but I hoped we could give her a better life.
So I went a picked her up. I and the other 15 pets were glad to have her in this acct.
She was very smart, but introverted. Alana Bloomfester immediately began therapy with her. Hannibal offered too, but umm :P I said "No thank you." :/
Alana helped her see her inner and outer beauty. She taught her how if she kept persevering no matter the adversities she could have a good life. She learned to count her blessings and soon we began seeing that beautiful smile. Adversity was learning to overcome her past a little at a time.
She easily got a job with Anna Tracy at the Clothing Rack. She also models. Her beautifully dark complexion, unique eyes and height for which she was teased for in school has made her very popular in the couture fashion world.
Mauve has her modeling for catalogs and she also does some runway work for Esmeralda.
I keep my other pets busy guarding her for fear the Amazons may come after her someday. I do not share this worry with her.
Especially now that she seems truly happy and she is a greatly loved member of this family. Even if legally she is only a foster child. :(
Pet Treasure
Vintage Sewing Machine
Sewing Machine
Walnut Print Fabric
Black Scrap of Fabric
Measuring Tape
Spool of Black Thread
Professor New Old-Skool Scissors
Black Seam Ripper
Female Clothing Patterns
Wireframe Dressmaker Form
Male Clothing Patterns
Male Dressmaker Form
Hand Sewing Needles
Thimble
Needle Threader
Safety Pins
Amazon Miniature
Oslyae Tail Whip
Bleak Issue 1
Bloody Nightmare
CD of Ultimate Terror
Stitches
Oowel
Ovlibion
Hovering Misfortunat
Nightstare
Suspicioid
Bunnyep
Naphal
Nightmare
Twilight Sand Castle
Black Beach Chair
Black Bathing Suit
Black Compression Shorts
Black Compression Tee
Black Barefoot Running Shoes
Black No Sweat Wristbands
Black No Sweat Headband
Black GPS Watch
Black Mini Phone
Black Laptop
Nightmare Potion Plushie
Nightmare Fuel
Haunting Nightmare Illumis Cocktail
Dream Coda Caves Crystal
Small Jar of Nightmare Fuel
Patches
Mothers Day Memorial Frame
Pet Friends