Information
Mazuma_121 has a minion!
Whistler's Mother
the
Fulvous Whistling Duck
Mazuma_121
Legacy Name: Mazuma_121
The
Hydrus Fester
Owner:
TracyH
Age: 7 years, 1 month, 2 weeks
Born: May 19th, 2015
Adopted: 6 years, 11 months, 1 week ago
Adopted: July 26th, 2015
Statistics
Level: 24
Strength: 25
Defense: 12
Speed: 12
Health: 13
HP: 13/13
Intelligence: 104
Books Read: 104
Food Eaten: 0
Job: Stylist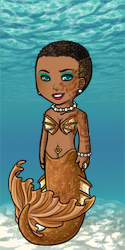 Adopted from the pound on 7/26/2015 after paying 20 million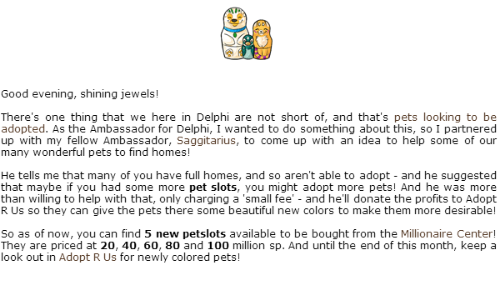 Mazuma is originally from the Omen Islands. I found her there on a visit. She has what I deemed as an unhealthy obsession with Merana.
As soon as she found out Festers could be Hydrus she could not wait to be colored that way.
A bit of attitude came with these change of color. I blame Merana. No matter what I have to do this family and the account mates will make sure she follows the light and does not get lost in the dark.
Her biological parents abandoned her. They walked on the dark and the wild side. A child was a burden for them. They signed away all their parental rights.
She is now my adopted daughter.
She also loves everything about mermaids.
I have seen her look at her legs and talons and I know she wishes they were a tail and a fin.
All my festers and even my kerubi try to teach her to have pride in being a fester.
Mazuma like Adversity is going to Alana Bloomfester for therapy. She also works with Adversity and Anna Tracy as a stylist at the clothing rack. Some of her creations however were picked up by The Beach Shack as they were Mermaid items. Mauve is quite impressed at what a quick study she is in her designing and seamstress abilities.
My prayer is Mazuma feels the instant love we all feel for her.
Pet Treasure
Straight Pins
Blue Tailor Chalk
Vintage Sewing Machine
Sewing Machine
Sumac Print Fabric
Blue Scrap of Fabric
Male Clothing Patterns
Male Dressmaker Form
Female Clothing Patterns
Wireframe Dressmaker Form
Measuring Tape
Spool of White Thread
Orange Craft Scissors
Tomato Pincushion
Thimble
Hand Sewing Needles
Needle Threader
Safety Pins
Starfish Mermaid Fin
Starfish Mermaid Top
Coral Mermaid Fin
Coral Mermaid Top
Mermaid Fin
Mermaid Top
Hydrus Mermaid Fin
Hydrus Mermaid Top
Coral Sand Dollar
Abalone Shell
Scallop Shell
Triton Shell
Spindle Shell
Curly Hydrus Horns
Mermaid Flipper
Shell of Venus
Mermaid Tear
Mermaid Beryl Plushie
Hydrus Maiden Plushie III
Seacow
Perla
Sheweed
Merana Cameo Brooch
Merana Beanbag
Chibi Merana Bobblehead Doll
Omen Islands Gannet
Veta Souvenir Snow Globe
Tin Can Pineapple Upside Down Cake
White Tangerine Keyboard Phone
White PC
Patches
Mothers Day Memorial Frame
Pet Friends