Information
Dickie_Twinkles has a minion!
Strokes
the
Mister Paintbrush
Dickie_Twinkles
Legacy Name: Dickie_Twinkles
The
Spectrum Kerubi
Owner:
TracyH
Age: 16 years, 11 months, 2 weeks
Born: July 23rd, 2005
Adopted: 16 years, 11 months, 2 weeks ago (Legacy)
Adopted: July 23rd, 2005 (Legacy)
Statistics
Level: 33
Strength: 77
Defense: 19
Speed: 21
Health: 25
HP: 25/25
Intelligence: 95
Books Read: 88
Food Eaten: 0
Job: Candy Maker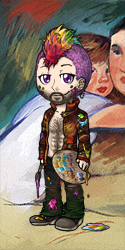 This is Dickie_Twinkles. He is named after my friend
Dickie
Dickie's story by me:
TracyH
Hello, I am Dickie Twinkles. I am very proud to be a member of this family and account. I am different. I am a Kerubi. As you have noticed all the other pets in this family are Festers. There is a lot of Fester pride.
Dickie did not want the pet named after him to be Fester so Mama thought a Kerubi would be cool. I was a common Kerubi for a while, then a Lilac one, then Spectrum, but then Mama wanted Alma Marie to be Spectrum so I got colored Glade. I was very handsome as a Glade Kerubi
Guess what Mama decided to turn me back Spectrum!!! Mama said Spectrum suited me better because of my love of ART. Alma Marie is now glade because she is the one that loves to plant and raise flowers, mostly roses.
I think Mama got it right this time.
I LOVE BEING SPECTRUM!!
I like it because it reminds me of rainbows. I absolutely adore rainbows. They are such a beautiful light at the end of a dark rain when the sunlight surges through and illuminates the raindrops like a breathtaking prism in the sky. *smiles* :D
I also love painting and all sorts of art. Mama says I do very well at it.
I kinda think I am good at it too, but shhh I do not want to seem vain.
I work at the candy shack with Troy Robert. I love chocolate, but my favorite candy to make is anything rainbow. Making candy is an art as well.
I love my minion Strokes. He is so cool. He let's me paint with him all the time. I think my best art is done with him. He is sort of my muse.
I want to say, humbly I am so thankful for my Patches. All of us have one. Plus all of us in this account have a mother's days memorial frame. *sighs, but finally smiles* How I wish I could have known my grandmothers. :/ :)
There is no doubt though I have a great life. I am one lucky Kerubi. :D
Thanks for visiting my profile. ♥️
Pet Treasure
Lollipop Bundle
Spectrumified Pretzel
Gate Keeper Gem Candy
Bag of Spectrum Chocolates
Bitten Apple
Rainbow Lollipop
Rainbow Chocolate Chip Cookie Lolly
Rainbow Lolly
Rainbow Licorice
Sparkly Rainbow Pie
Rainbow Pie of Everything Wondrous
Rainbow Cake
Super Happy Rainbow Cake
Rainbow Wedding Cake
Spectrum Berry Pie
Rainbow Egg Cake Slice
Prismatic Slime
Spectrumvet
Spectrum Birdy
Malex
Rainbow Giant Malicious Slippers
Rainbow Glowing Pen
Rainbow Elemental Staff
Spectrum Horse Tail
Rainbow Belt
Spectrum Puffy Hat
Ragged Fingerless Spectrum Gloves
Spectrum Toe Socks
Spectrum Umbrella
Beach Ball
Rainbow Inflatable Pool
Spectrum Beach Chair
Spectrum Sand Castle
Rainbow Bodyboard
Pink No Sweat Wristbands
Pink No Sweat Headband
Purple GPS Watch
Red Tied Hiking Stick
Khaki Hiking Backpack
Mirror Gaze Muscle Tonic
Weightlifting Muscle Tonic
Instant Crunches Muscle Tonic
Pencil Art
How to Draw Vesnali Bunnies
How to Draw
Art Brings Hope
Artists Sketch Book
Artist Plushie
Artikat
Gum Eraser
Fluorescent Pink Subo Polymer Clay
Pastel Oil Crayons
Mineral Blue Traditional Ink Stick
Blue Traditional Ink Stick
Crimson Traditional Watercolor Chips
Artist Brushes
Pink Paw Paint
Watercolor Set
Artistic Paint
Unstained Easel
Blank Canvas
Artist Angle Brush
Artist Filbert Brush
Traditional Bamboo Sheeta Hairbrush
Palette
Golden Palette Set
Digital Camera
Graphics Tablet
Subeta Art Shop
Neon PC
Turquoise Tangerine Touchphone
Turquoise Tangerine Ear Buds
Turquoise Tangerine Laptop
The Lone Tree Print
Awash, Among, Afloat Print
Centropolis Reflections Print
The Foundering Vessel - Typhoon Coming On off the Delphi Beach Print
What Comes From Sand Print
Rolling Waves Poster
Mothers Day Memorial Frame
Patches
Pet Friends