Information
Hyrum Joseph Holmes has a minion!
Scribbles
the
Generic Minion
Hyrum Joseph Holmes
Legacy Name: Hyrum Joseph Holmes
The
Scribble Fester
Owner:
TracyH
Age: 16 years, 8 months, 4 days
Born: November 3rd, 2005
Adopted: 16 years, 8 months, 4 days ago (Legacy)
Adopted: November 3rd, 2005 (Legacy)
Statistics
Level: 66
Strength: 157
Defense: 20
Speed: 20
Health: 21
HP: 21/21
Intelligence: 174
Books Read: 170
Food Eaten: 0
Job: Topiary Tender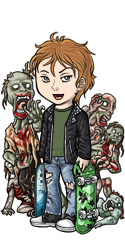 Note from TracyH: This pet is named for my grandson and one of each of my husband's and my brothers.
I am named partially for
TracyH's grandson. He was her first grandchild so I know I am special. The real Hyrum likes that I am a scribble Fester. I am rather cool looking with my skateboard aren't I?
I work at Seedlings. I can carve those pretty bushes as good as Edward Scissorhands and I don't cut myself. LOL!!! That was a great movie. :D
When I am not working I am usually riding my skateboard, I :heart: my skateboard!!! I also love video games. Except Mommy won't let me play the rated M ones, but I don't care. My favorite games usually have people on skateboards.
I also like shows about Zombies!! WHY DOESN'T SOMEONE MAKE A MOVIE ABOUT ZOMBIES ON SKATEBOARDS OR EVEN BETTER A VIDEO GAME WITH ZOMBIES ON SKATEBOARDS???!!! *Dies with excitement* Sorry, but the idea of that just blows my mind!! :P
I also love to play all kinds of ballgames, football, soccer, baseball and basketball. I love to swim and fish. That's why living at the resort rocks!!
Like most of Mama's pets or babies as she calls us (I AM NOT A BABY) I have a Mother's Day Memorial Frame and a Patches in my treasure chest. Even the Hannibal account mates have a Mother's Day Memorial Frame and a Patches in their treasures.
Well, it is raining outside so I'll get my Patches and my minion Scribbles and lay back and play video games. Y'all come back sometime especially if you are a Zombie Skateboarder. Ha! Ha! :D :D
Pet Treasure
Happy Zombie Sticker
Distinguished Zombie Gentleman
ZomBEE Balloon
Zombook
Zombebe
Spurned Zombie Love
Never Heart Cookie
Zombies 101
Zombie Brain Puff
Bleach Zombie Cotton Candy
Zombie Kitten Plushie
Whoopee Cushion
Soccer Ball
Basketball
Football
Baseball
Bandages
Safety For Hikers
Safety For Campers
Tent Assembly Guide
Hiking Maps
Plants to Avoid While Hiking
Cheap Fishing Pole
Green Tackle Box
Sougara Forestive Hiking Boots
Hiking Poles
Rust Hiking Backpack
Heavy Duty Metal Tent Pegs
Plastic Tent Pegs
Plastic Tent Peg Mallet
Rubber Mallet
Country CD
Yellow S-Pod
White Wetsuit
Torrent Surfboard
Blue Wireless Router
Stalker
Oddly Pixelated Axe
Dented Cube of Wood
Oddly Pixelated Pick
Neon PC
Turquoise Tangerine Ear Buds
Turquoise Tangerine Laptop
Turquoise Tangerine Touchphone
Joystick
Robo Tigrean
Golden GamePet
Arid Gamepet
Sun Gamepet
Twilight Gamepet
Lilac Gamepet
Dusk Gamepet
Blue Gaming Headset
Blue Rad Wireless Controller
Blue Rad Game System
Game Master Screen
Cityscape Skateboard
Black Skull Skateboard
Sunset Flight Skateboard
Red Stars Skateboard
Cupcakes Skateboard
Balloons Skateboard
Goldfish Skateboard
Camouflage Skateboard
Delphi Surf Skateboard
Inflatable Blue Tube
Game Master Compendium
Fester Keychain
Super-Deformed Fester Doll
Chibi Fester Plushie
Mothers Day Memorial Frame
Patches
Pet Friends